Porta
A no-nonsense, hassle-free photo album generator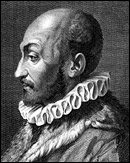 Porta turns an image directory into a neatly formatted web photo album. Besides being free its primary virtues are:

It's fast,
it's simple to use,
it's lightweight,
and it produces clean and uncluttered web pages that
will load fast and look good in all modern browsers.



Giambattista della Porta (1535-1615) was the first to add a convex lens to the camera obscura. This amplified its light sensitivity significantly and thus constituted a major step towards the cameras of today. Add the meaning of the Latin word porta (gate) and you have the full "story-behind-the-name".
How to make a photo album?

Making a photo album requires you to locate an image directory.

Next, the window to the right is shown. Pressing enter starts album generation and shortly after is the result shown in your browser. Simple and fast.

Features and program options include:
Multi-language album support

Bulgarian, Catalan, Croatian, Czech, Danish, Dutch, English, Esperanto, Estonian, Farsi, Finnish, French, German, Greek, Hebrew, Hungarian, Icelandic, Italian, Japanese, Korean, Latvian, Lithuanian, Malay, Norweigian, Polish, Portuguese, Romanian, Russian, Slovak, Slovenian, Spanish, Swedish, Thai, Traditional and Simplified Chinese and Turkish (add your language by editing this and mail it to )

Image captions

Major captions below each image and minor captions shown as hovering tooltips
(can be automatically extracted from IPTC information / JPEG comment / filename / EXIF data)

Inclusion of high-resolution images
Automatic image rotation from EXIF orientation
Watermarks showing e.g. the IPTC author and copyright
Auto-start of albums placed in the root folder of CDs or USB-sticks
et cetera ...
How fast is fast?
An informal comparison showed that Porta was five to eight times faster than similar programs.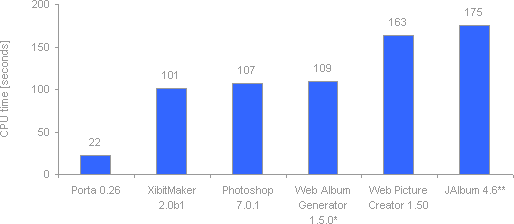 Album: 47 input images (2560x1696px), medium-size 550px, thumbnails 80px [Athlon 1100MHz, 256MB, Windows XP]
*Medium-size images were 640x480px. **The high quality scaling option was used to obtain a quality similar to Porta's.

Support Porta development
Download and history
Download the latest official version of Porta [v1.04, 606 KB] (Windows version packaged by NSIS).

Thanks to Wine it's also possible to run Porta on the linux platform.

Check the Porta history for recent changes and download of older versions.
Mirror sites

German Porta users may want to visit the translated mirror site kindly sponsored by Domain-Union.

Alternative download sites include Tucows and SnapFiles. Porta also got the "100% Clean award" from Softpedia. Not to mention the "Programa Recomendado" from Uptodown. Muchas gracias!



Acknowledgements
Porta contains code portions kindly provided by the Independent JPEG group, the Libtiff project, the XML parser toolkit, the Jhead project, and the FreeType project.
The SimpleViewer is written, and kindly licensed for use in Porta, by Felix Turner, Airtight Interactive.

All languages, except for English and Danish, have kindly been contributed by:


Aaro Tupasela (Finnish)
Adrian Ivana (Japanese)
Aleksandr Dubinskiy (Russian)
Alex Itcus (Romanian)
Bram van Ginneken (Dutch)
David Delgado Gómez (Spanish)
David Kurti (Croatian)
Emil Zimmermann (Hungarian)
Galin Atanasov (Bulgarian)
Guillaume Chatelet (French)
Hanjo Kim (Korean)

Hasso Mehide (Estonian)
Hildur Ólafsdóttir (Icelandic)
Joćo Pinheiro (Portuguese)
Karl Skoglund (Swedish)
Kenneth Weidlich (German)
Kiattiyos Thongson (Thai)
Lucia Sconosciuto (Italian)
Maciej Tomczak (Polish)
Matjaž Milharčič (Slovenian)
Mehmet Arun / Deniz Taylan (Turkish)
Mohammad Ali Babaee (Farsi)

Moshe Alima (Hebrew)
Nicki Panou (Greek)
Nik Isrozaidi (Malay)
Oriol Molinos (Catalan)
Rado Gadoczi (Czech, Slovak)
Robert Stalzer (Esperanto)
Sicc (Latvian)
Tron Darvann (Norwegian)
Vincent Wuen (Traditional Chinese)
Vytautas Zinkevicius (Lithuanian)
Wilson Han (Simplified Chinese)
Related software
Porta's younger brother is Barnack; a program for learning about the intrinsic camera parameters and their effect on the hyperfocal distance, depth of field et cetera. Another family member is cousin Riis; a minimalistic photoblog system that enables you to share an image in a single mouse click.